Heroes, Saints & Legends raises more than $465,000 to create communities of connection, well-being and promise!
Thank you for your remarkable support of Heroes, Saints & Legends and the extraordinary 2022 honorees, Billye Aaron, Virginia Hepner and Dr. Judy Greer.
There is still time to give to support pastoral care, wellness programming and financial assistance for housing and meals.
Heroes, Saints & Legends Event Sponsors
PRESENTING SPONSOR
SAINT SPONSORS

RON & VICKI CANAKARIS FAMILY FOUNDATION





MR. AND MRS. DOUGLAS J. HERTZ
MR. AND MRS. W. THOMAS JOHNSON
NIECES AND NEPHEWS OF JUDY GREER
HERO SPONSORS
Cadence Bank
The CDC Foundation
Lillian and Buddy Darden
Mercedes-Benz of Buckhead
Donn Ann and Ken Weber
DOVE SPONSORS
A.G. Rhodes
The Bowden Law Firm
Candler School of Theology
Cascade United Methodist Church
Ann and Mark Chandler
The Coca-Cola Company
Cognia
Dunwoody United Methodist Church
Cindy and John Ethridge
Beth and Tommy Holder
Jenny and Phil Jacobs
Northside United Methodist Church
North Georgia Conference Board of Laity
Woodruff Health Sciences Center of Emory University
Click below to view the honoree videos which highlight their life-changing leadership and commitment to our wider community.
About Heroes, Saints & Legends
Heroes, Saints & Legends honors extraordinary individuals who have shaped our community through a lifetime commitment to leadership, service and philanthropy. Funds raised through Heroes, Saints & Legends benefit the mission and ministry of Wesley Woods which includes financial assistance with meals and housing, wellness programming and pastoral care to the older adults living in Wesley Woods communities.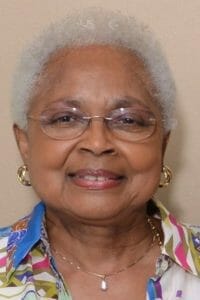 Billye Suber Aaron
Nonprofit executive and television personality Billye Aaron is a native of Texas where she graduated high school and later from Texas College in Tyler, Texas with her B.A. degree in English. She received a fellowship to attend Atlanta University and graduated with her M.A. degree in 1960. Aaron continued her post-graduate studies at the University of California at Berkeley.
Ms. Aaron taught English in the Atlanta public school system, at Spelman College, Morehouse College, South Carolina State College, and Morris Brown College. She was a co-host for WSB-TV's 'Today in Georgia,' becoming the first African American woman in the southeast to co-host a daily, hour-long talk show. In 1973, she married baseball legend Hank Aaron and began hosting her weekly talk show, 'Billye,' for WTMJ-TV. She served the United Negro College Fund for fourteen years where she co-hosted the annual telethon, 'Lou Rawls Parade of Stars,' co-founded the Mayor's MASKED Ball and became the second woman in the organization to serve as vice president of the southern region. After retiring in 1994, she and her husband started the Hank Aaron Chasing the Dream Foundation to award scholarships to assist the education of low-income children.
A longtime member of the NAACP, Aaron chaired its premiere fundraiser, the annual Freedom Fund Dinner, for five years. She is director emeritus of the NAACP Legal Defense Fund and has been honored with numerous awards for her service, including the 2003 Martin Luther King, Jr. "Salute to Greatness" and the YWCA Woman of Achievement award. Aaron and her late husband have five children and two grandchildren.
Dr. Judy Greer
Dr. Judy Greer has compiled an impressive record of distinction rising from physical education instructor to being the first female full professor during her tenure at Oxford College. Dr. Greer received her undergraduate degree at LaGrange College, a M.Ed. degree in physical education and counseling from Auburn University, and an Ed.D. degree in physical education and higher education from the University of Georgia.
As a Professor of Physical Education at Oxford for over 30 years, she was known for her caring attention to her students and life-long friendships with them. Upon her retirement, members of the Oxford College Class of 1959 showed their appreciation by establishing a scholarship in her name, a fund alumni and friends have maintained for two decades.
Dr. Greer received the LaGrange College Distinguished Alumna Award, the University of Georgia Graduate Alumna Award, Oxford's first Fleming Award for Excellence in Teaching, the R. Carl Chandler Award from the Oxford College Board of Counselors, the Metro Atlanta YMCA Volunteer of the Year Award, the R.O. Arnold Award from the Newton Chamber of Commerce and was recognized by the Points of Light Foundation for her work with senior adults. Dr. Greer was inducted into the Emory Sports Hall of Fame, the inaugural class of the LaGrange College Sports Hall of Fame, and presented an Outstanding Georgia Citizen certificate honoring "Women Sports Trailblazers" sponsored by the Georgia Commission on Women in celebration of Women's History Month. In 2019 Greer's niece and nephew honored her with the naming of the Dr. M. Judith Greer Tennis Courts at LaGrange College. She is a lifelong member of the United Methodist Church and currently worships at Allen Memorial UMC in Oxford.
Virginia A. Hepner
A corporate and community leader, Ms. Hepner is actively engaged in numerous activities following five years as President and Chief Executive Officer of the Woodruff Arts Center in Atlanta, Georgia. She currently serves as a Director of Cadence Bank (Audit Chair, Compensation), National Vision Holdings, Inc. (Nominating & Governance Chair, Audit) and Oxford Industries, Inc. (Nominating, Governance and Compensation). Virginia continues to serve on several non-profit boards with her focus being revitalization of the historic Westside Atlanta neighborhood through the Westside Future Fund board and Chair of the Finance Committee. Other civic advisory board service includes the GoAtl Investment Committee of the Community Foundation, Penn IUR, Agnes Scott College, IWF Georgia, and the Reach Foundation.
In 2005, she retired from Wachovia Bank as an Executive Vice President after a 25-year career in corporate finance with the firm. Leadership roles included Managing Director of US Corporate Finance, head of Foreign Exchange and Derivatives Trading and Atlanta Commercial Banking Director. She holds a bachelor's degree in finance from The Wharton School of the University of Pennsylvania and attended the J.L. Kellogg Graduate Business School of Management at Northwestern University.
Virginia is honored to be a Life Trustee of the Woodruff Arts Center and is grateful to be a recipient of the City of Atlanta Phoenix Award, the Lifetime Achievement Award by the Atlanta Business Chronicle, the Governor's Award for arts leadership in Georgia, and the Lettie Pate Whitehead Evans Award honoring exemplary corporate board service by a female director.
Virginia is married to Malcolm Barnes, and they are fortunate to be the parents of Alec and Vanessa Barnes.
2021
Dr. H. Allen Ecker
Phil Jacobs
Bishop Woodie W. White
2020
Dr. Carolyn and Coach Bill Curry
Cecilia and David Ratcliffe
2019
J. Neal Purcell
Ray M. Robinson
Lyn and Bob Turknett
2018
Rev. Dr. Joseph E. Lowery & Dr. Evelyn Gibson Lowery
Edward J. "Jack" Hardin
Merritt Steed Bond
2017
Bishop John & Dr. Dolly Adams
Ann Q. Curry
Hank M. Huckaby
2016
Dr. J. David Allen
Lillian Budd Darden
Egbert L.J. Perry
2015
Dr. Monica Parker
Bill Bolling
Shirley Franklin
2014
Rev. Dr. Don Harp
Dr. Linton Hopkins
Ingrid Saunders Jones
Lonnie Ali
2013
Vince Dooley
Monica Pearson
Dr. Allan Levey
2012
S. Truett Cathy
Ann Cramer
Carl Ware
W.N. "Bill" Wilkins
2011
Pat Epps
Sam Massell
Frank Broyles
2010
Paul S. Amos
Dr. Mahlon DeLong
Andrew Young

2009
Azira Hill
Jesse Hill
Lou Brown Jewell
Ferrol A. Sams
2008
Walter E. Massey
Colleen O'Brien Nunn
B. Franklin Skinner
2007
W. Lee Burge
Harold A. Dawson, Sr.
Alana Smith Shepherd
2006
Dorothy H. Addison
Gay McLawhorn Love
Marvin H. Shoob
Elizabeth Wilson
2005
Henry L. Aaron
J. Willis Hurst, M.D.
Dr. Berta R. Laney
Dr. James T. Laney
2004
Mary Duckworth Gellerstedt
Clyde Rodbell
Felker W. Ward, Jr.
2003
John E. Aderhold
Jeanne Rolfe Ferst
Horace T. Ward
2002
N. Bond Fleming
Dorothy C. Fuqua
J.B. Fuqua
Louis W. Sullivan
2001
Rosalynn S. Carter
Homer C. Rice
Herman J. Russell
2000
L. Scott Allen
Leila D. Denmark
Thomas B. Murphy
1999
Ivan Allen, Jr.
Louise Richardson Allen
Elliott Goldstein
1998
Rawson Haverty
Louise McBee
Randolph W. Thrower
1997
Beatrice H. Hass
Franklin M. Garrett
Virlyn B. Moore, Jr.
1996
Elliott Galloway
Daniel H. Magill, Jr.
LeRoy T. Walker
Charles R. Yates
1995
Donald L. Hollowell
Elmo I. Ellis
Frances F. Pauley
1994
William R. Cannon
Rebecca Y. Frazer
Manning M. Pattillo, Jr.
1993
Albert J. Bows
Celestine Sibley
Boisfeuillet Jones
1992
Martha H. Ellis
Candler Budd
A.B. Padgett
George B. Hightower
1991
Henry L. Bowden, Sr.
D.W. Brooks
Selma T. Richardson
1990
Eleanor L. Richardson
Constantin Chatov
Dean Rusk
Elbert P. Tuttle